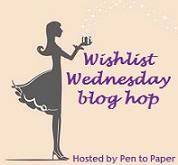 Wishlist Wednesday is hosted by my friend (virtually only unfortunately) Dani over at
Pen To Paper
Feel free to take part in the Blog hop!
This weeks offering is:
'
AMAZON DESCRIPTION:
A man regains consciousness to find himself naked in a mass grave with no idea who he is. His first thought is survival - but in a religious war survival depends on knowing which side you are on. Donning another man's military uniform, he drives off and enters a nearby town to discover that the occupying soldiers have been waiting for someone very much like him. Suddenly he finds himself in power. His first act is to save a woman about to be murdered by soldiers - a woman he turns out to have a history with. She seems to know more about him than he does, but does she have the right man?
This ended up on my Wishlist thanks to
RiSi
and Anne Cater (I believe!) Apparently not an easy read, but I feel that anything with this subject matter shouldn't be.